Co-curricular Activities
The school has a list of activities which are enlisted in the academic calendar. The school prepares the students for all kind of curricular and co-curricular activities. For the details we can go through the Calendar.
Syllabus
The school strictly follows CBSE syllabus
Apart from this moral Science is taught . Computers classes are given right from UKG.
We have Hindi as a second subject and Urdu/ Sanskrit as third subject.
Our Evaluation Strategies
Two Formative Assesment and One summative assessment will be conducted in each of the two terms that the academic session is divided into. In tandem with CBSE directives the weightage will be as follows:
FA1 10 marks
FA2 10 marks
SA1 30 marks
FA3 10 marks
FA4 10 marks
SA2 30 marks
Continuous and Comprehensive evaluation will form the basis for a holistic assessment of a learner inclusive of co-scholastic areas like Life Skills,scientific skills, aesthetic skills and performing arts and clubs as well as Health and Physical education.
Sports Day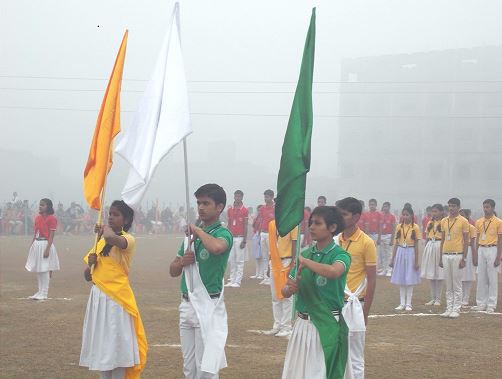 School conducts Sports Day every year. Children are trained for March Past and variety of P.T drills on brass band are taught right from class Nursery to Higher section. Karate training is also provided. These types of activities help them to develop their personality. They learn to carry their responsibility. They learn how to work in a group. Child becomes active, cheerful and fresh.
Parents feel proud when their children win various prizes trophies shields medals and certificates. They participate in events of Atheletics like high jump, long jump, javelin throw, shot put, discuss throw. Other races like cross country race, obstacle race. Cricket, Throw ball, basket ball, badminton, Kho-kho and volley ball matches too are played. The school is looking forward for table Tennis , Lawn tennis an swimmimg pool.